cheqd has launched a testnet on Cosmos with Evernym, Outlier Ventures, and DIDx, and we're excited to be expanding our vision for an incentivised self-sovereign identity
Earlier this month, cheqd outlined its vision for a new self-sovereign identity (SSI) network on the Cosmos blockchain framework.
Today, I'm excited to say that we've taken our first step in making this reality come true, with cheqd launching a persistent testnet in collaboration with our early external partners: Evernym, Outlier Ventures, and DIDx.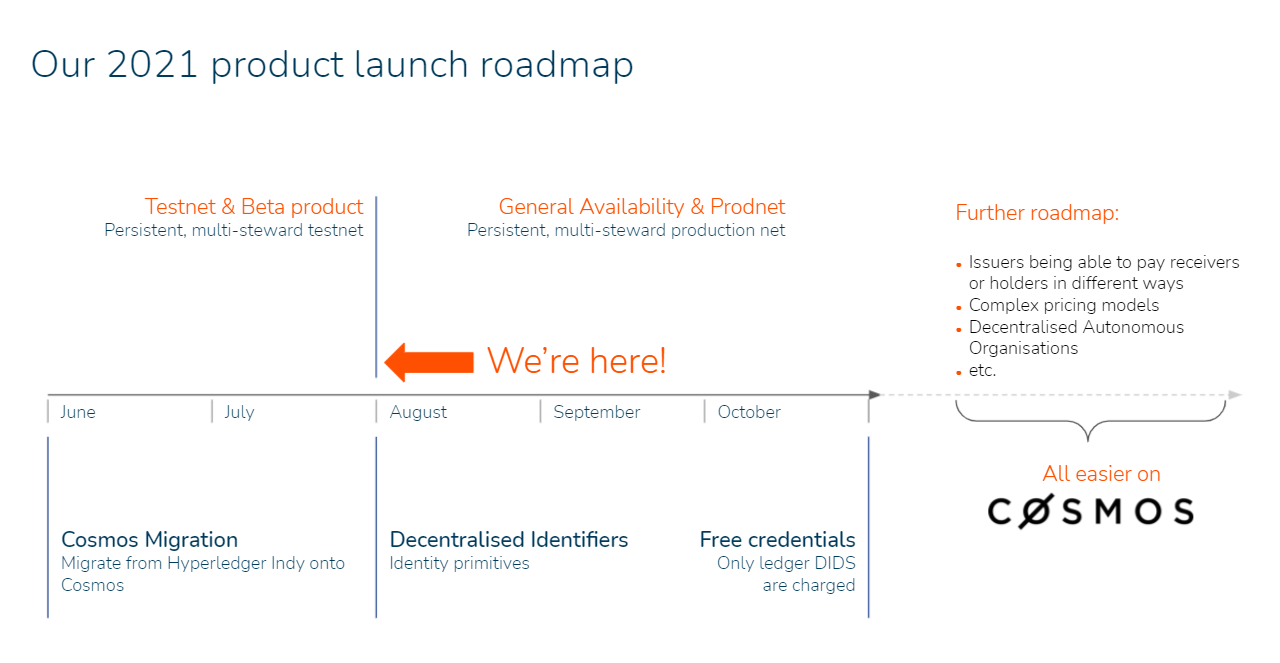 cheqd Testnet launch on our 2021 product roadmap
This marks a major milestone for the cheqd team, and demonstrates that we are on track as defined in our product roadmap. Our key milestones include:
Internal Devnet (June 2021): cheqd is currently running an internal developers-only network of our new Cosmos-based blockchain for build/test purposes.
Beta product & Testnet (we're here now — July 2021): Our goal was to have a persistent network accessible to developers to build apps against. This was our target to get up and running with external partners, and we're glad to have our launch partners onboard.
Cosmos-based Decentralised Identifier (DID) method (target date — August 2021): We aim to publish a DID method specification compliant with World Wide Web Consortium (W3C) standards that the open-source community can use.
General availability & Prodnet (target date — October 2021): A production-grade, persistent and public permissionless multi-operator Cosmos-based blockchain network with a token for rewarding incentives. cheqd currently does not have any plans for either a public or private token sale. Our team is hard at work to ensure that the Prodnet launch is carried out in compliance with relevant financial and digital asset regulations in relevant jurisdictions around the world. As such, we want to be transparent that this target date is subject to any relevant regulatory approvals.
Prodnet+ (target date — late 2021 onwards): Once we have achieved a stable Prodnet release, we will continue working on enhancing our network and product with new functionality that expands the possibilities of what use cases self-sovereign identity applications can support. We have exciting ideas here that we will announce as we make our product delivery timelines more concrete.
Say hello to the "cheq" token 👋
When we were planning internally on rebranding to cheqd, we immediately converged on the idea of calling our token "cheq". Paper cheques (or checks, for our American readers) have existed for decades as a mechanism of payment, and often linked to artefacts such as signatures and identity of people.
We like the idea of reclaiming "cheq" as a term in the decentralised world as dual-purpose word that blends the worlds of digital identity and payments. It fits well with our mission on how we're building a commercial engine for checked and trusted data ecosystems.
The cheqd testnet ceremony
The genesis ceremony for the cheqd testnet was carried out on Wednesday, 21 July 2021. (This is one of the reasons why we really wanted to announce our rebrand last week!) Prior to the genesis ceremony, we had asked all our launch partners to setup a node with a Cosmos cheqd node with the beta software code.
During the ceremony, we minted 1 billion cheq test tokens as well as the genesis configuration required to connect up all the nodes into the testnet. We'd planned for the ceremony to take 1.5 hours, but as these things go, we ended up extending this to 2 hours as to fix teething issues during peer configuration.
The balance minted with cheq test tokens was distributed as follows:
20% cheq test tokens distributed to the founding validators: We wanted to model the fact that in real life, different validator nodes would have different amounts staked.
80% cheq test tokens was set aside for future validators, treasury, and cold storage: We distributed the majority of the tokens minted as set aside for future use.
The cheqd testnet currently involves four Cosmos validator nodes, one from each founding launch partner. The functionalities available at the moment allow anyone with access to the nodes to:
Create Cosmos accounts that can hold cheq test tokens
Create DIDs that can be written to the cheqd testnet, and pay for it with cheq test tokens
Automation to speed up basic testnet cheqd node deployment
We wanted to get this code early with external partners, so that we can start capturing feedback from potential real node operators in the future.
To make the process of distributing the 20% cheq test tokens among the founding validators randomised, an appointed representative from each of the founding validators rolled three dice using DuckDuckGo. After multiple rounds of die rolls (and an impromptu guitar solo!) we ended up with this distribution:
Outlier Ventures at 9%
cheqd at 5%
Evernym at 4%
DIDx at 2%
As we open up the network to more validators, we'll distribute more cheq test tokens on a randomised basis. We will be working in the background over the next few weeks to onboard additional validator nodes, initially as a manual process and then expanding it to make it public and open for anyone to join the network. We will continue working on tooling and services to make this process easier.
Please note that the values above are purely for testnet purposes, and not indicative of our plans for cheqd mainnet.
What are your plans for the future?
Our next major milestone is to make cheqd's Cosmos node repositories open to the public by mid-August 2021. We're using the intervening time to:
Incorporate feedback from early validator operators: We're making enhancements and bugfixes from the initial node operators to our documentation, automation needed to set up the node, and basic token/identity functionality.
End-to-end walkthrough on creating a test DID and paying for it with cheq test tokens: This will give a clear idea for the basic journey a real organisational user might go through to test tokens.
Adding more early validator nodes: We hope to continue expanding the validators on the network to further node operators. We are actively looking to add more partners, so if you are an SSI vendor, a digital identity company, or an existing node operator for Cosmos validator nodes please reach out to us at 

[email protected]

.
Beyond the mid-August 2021 milestone, we plan on building/releasing the following:
Public, permissionless governance models for decentralised identity: We're quite excited about the possibilities of how the Trust over IP Foundation and other SSI governance models can be regulated in a decentralised fashion, through voting on chain.
Testnet faucet for app developers: We want to make it easy to acquire cheq testnet tokens for testing, as more app developers build client side links to the new cheqd network.
Simulating governance and tokenomics parameters: In our opinion, one of the best ways to involve the community behind cheqd is to include them in decisions around how the tokenomics and distribution on the cheqd mainnet will work, and we want to validate these ideas on the cheqd testnet.
A community specifically for node operators and developers: We want to create a community/platform specifically for developers and node operators to capture their feedback and get the discussion going with our product and engineering teams. We've already seen the value these tight feedback loops have in terms of highlighting the areas of improvement, and we certainly want to continue this thread.
Stay tuned for more things in our product roadmap that we want to show to the community, and we really look forward to incorporating ideas democratically from the Cosmos and self-sovereign identity communities.
What are our launch partners saying
The cheqd team wouldn't be here today without our nascent community, and without the support of the founding validators who have joined our network.
Here's what the cheqd testnet launch partners had to say:
Join the cheqd network and give us feedback
We would love to get more partners onboard on the cheqd testnet and look forward to feedback from the community. If you're interested in becoming a validator, please reach out to us on [email protected].
The best route to make sure you hear about our general updates is to join our rapidly growing Telegram community.
P.S. We're also on Twitter and LinkedIn, make sure to cheq in!
We're building a secure network that enables individuals to take full control of their personal data. Through our network, anyone can verify identities quickly and securely.
We help companies monetise self-sovereign identity to stay viable, profitable and more successful than before. Issuers of data benefit from a recurring revenue stream whenever that data is used in the future without needing to process it constantly. Recipients of data can lower their costs since any data they receive is digital, trustable and re-usable, reducing the processing overhead.
Ultimately, we're making it easier for individuals and organisations to trust each other.
For marketing or community queries for cheqd, please get in touch at [email protected].