Frequently asked

Questions
We hope this FAQ answers any questions you may have. Please feel free to reach out to us on our social channels or on [email protected] for any further questions you may have for our team.
Last updated: 13th June 2022
What is cheqd?
cheqd is a market-leading technology company enabling individuals and organisations to take full control of their data. It provides payment rails, customisable commercial models and governance structures for trusted data, including self-sovereign identity (SSI). Based on blockchain technology, cheqd is built upon a public permissionless network with a dedicated token – $CHEQ.
Founded in 2021 by CEO Fraser Edwards and CTO Ankur Banerjee, cheqd is a driver for innovation backed by Outlier Ventures, Evernym, Cosmos' Ignite and private investors, receiving a total raise of just over £2.4 million in its seed investment round.
What is cheqd vision?
Our vision is to become the de-facto payment mechanism for trusted (authentic) data. This is all in service of a much greater mission: to give people and organisations the ability to control and understand the value of their own data.
At cheqd, we believe the adoption of self-sovereign identity (SSI) is key to enabling our mission. This is why we are building commercial models through a blockchain network, tokens and tokenomics.
By introducing payments and other sustainable economic incentives, we can turbocharge the adoption of SSI, return control and privacy to individuals, and enable new business models for authentic data.
We are making it easier for individuals and organisations to trust each other.
Has cheqd network been launched?
How does cheqd's tokenomics work?
cheqd tokenomics have been extensively covered in the following blogs:
Who cheqd partners with?
cheqd's network is primarily built for self-sovereign identity (SSI) vendors to disrupt established identity paradigms and create new authentic data marketplaces. Currently, cheqd's partnership network includes a total of 35 top SSI vendors.
Each SSI vendor utilises cheqd's network tooling, functionality and native token, $CHEQ, for payment rails, never-seen-before commercial models and decentralised governance to advance their commercial strategies and technical roadmaps. The scale of distribution in the SSI space is unmatched – through its strong community of partners, cheqd engages with companies in various industries, which further demonstrates the endless areas of opportunity for the application of SSI technology.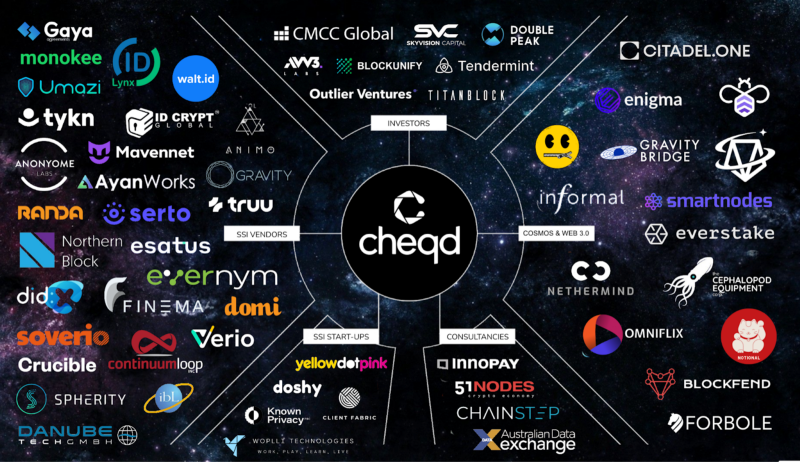 Is cheqd carbon-neutral?
cheqd will offset its carbon footprint with Regen Network. The company decided to use the ZERO Carbon Commitment, an Interchain Foundation Earth Programme initiative for Cosmos chains to achieve net-zero emissions for their networks.
cheqd will use Nature Carbon Ton (NCT) developed by Regen Network, Toucan Protocol, Moss, and BICOWG in cooperation with the Osmosis decentralised exchange.
How is Evernym involved with cheqd?
Evernym that has been acquired by Avast (now called Gen) has provided seed investment to cheqd to stand up the team and company operations, along with other investors. They are also a close partner to cheqd, where they will be contributing significant software development effort, product management effort, and ecosystem governance support to help fulfil cheqd's mission. We are glad to have a strong pioneer in the self-sovereign identity space as a partner as we build out the mechanisms for making decentralised identity financially viable. cheqd will also leverage Evernym's expertise in building products in a collaborative fashion with open source communities.
Is cheqd related to Sovrin?
Sovrin Foundation is a 501(c) non-profit headquartered in the US. They were previously involved in the efforts to create a "Sovrin token" built and managed by the Sovrin Foundation.
cheqd and Sovrin Foundation are not commercially linked or related at present, although this may change in the future. We recognise the collaborative nature of building self-sovereign identity. We welcome future collaboration with Sovrin Foundation, the stewards participating in Sovrin, and wider from the SSI and decentralised apps community.
What is the history between cheqd and Sovrin?
The background behind the Sovrin token and how cheqd was formed has been publicly covered in a blog post by Jamie Burke at Outlier Ventures. We thank the existing shareholders of cheqd for their continued support.
It is worth explicitly mentioning that cheqd wish the Sovrin Foundation all the best and will explore collaboration as the opportunities arise. The market has a range of needs and a rising tide floats all boats.
Note: Statements in the Outlier Ventures blog post linked above were current as of September 2020. Beyond the background of the Sovrin token, the incentive and network elements will be superseded as cheqd's team develop its own strategies and hypotheses.
Where can I direct questions regarding the Sovrin Foundation?
Where can I receive public updates about cheqd?
We plan on regularly communicating our progress and updates via our public social media channels. At the moment, we are scaling up our team and working with our partners and hope to increase the cadence of our communications.
Where can I receive updates as an investor/shareholder in cheqd?
Beyond the public social media channels above where we will share progress as frequently as possible, we will communicate any news specifically relevant to investors via email directly.
Join our community to learn more about what we're building. Get the latest news and insights in our groups below.