The foundations are set for cheqd's first-of-a-kind decentralised identity payment rails
Co-authored by Ross Power (Product Manager), Alex Tweeddale (Product Manager & Governance Lead) and Ankur Banerjee (CTO/co-founder).
Making cheqd the most flexible, usable and interoperable network is integral for achieving wider adoption, as we pave the way for the first-of-its-kind decentralised identity payment rails. Recently we wrapped up the third quarter of 2022 and nearing just 1 year since network launch, we're thrilled to have built the foundation for our partners to truly get to work on building their decentralised identity applications on the cheqd network, and we can't wait to see what they create. Now, as partners begin to integrate their applications with cheqd, we're heads down on building what we're here for… cheqd's Payment Rails for self-sovereign identity (SSI).
Since we launched cheqd in 2021, we've been on a mission to build a stable, trusted and secure decentralised identity network (known within SSI as a Verifiable Data Registry). This is the cornerstone of SSI, acting as the ultimate trust machine required for the verifications of identity data.
Ultimately, it is the fundamental infrastructure needed for being able to offer our first-of-a-kind payment rails which we believe is the missing piece in the widespread adoption of Self Sovereign Identity.
Here's a quick reminder of what the journey so far looks like…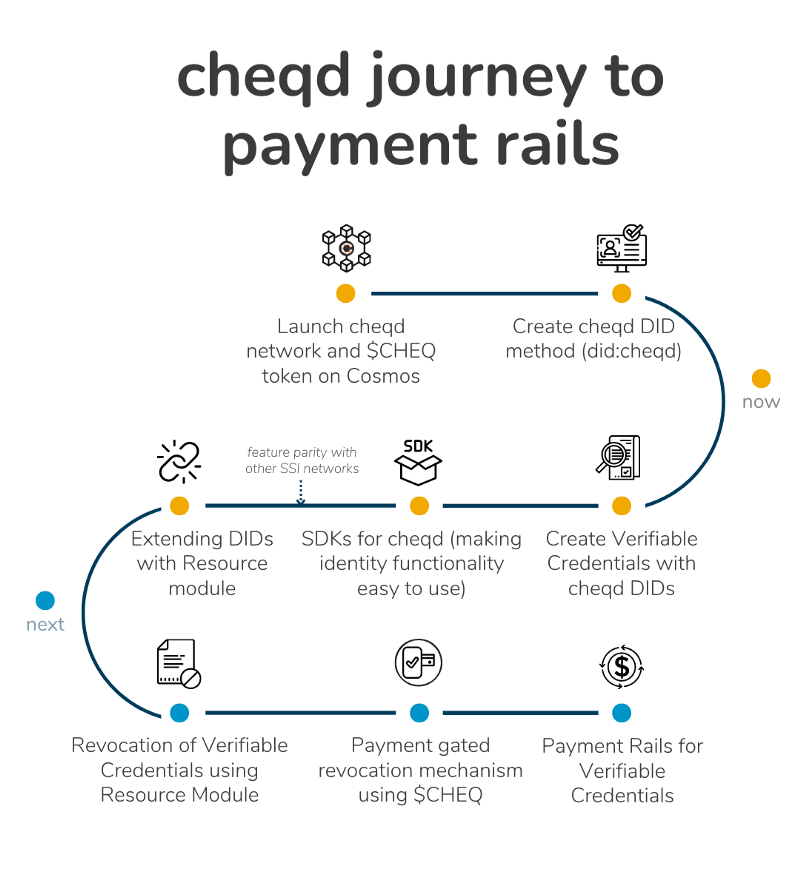 cheqd — journey to credential payment rails
In a sense, you can think of everything we have been working on to date as:
Feature parity with all other SSI networks;
Identity functionality that goes beyond existing SSI networks; and
The tooling and scaffolding to lay the foundations for payment rails for Verifiable Credentials.
Bringing this all together into a visual representation, using the Trust Over IP stack as we have done in the past, helps to make sense of what cheqd's capabilities look like both now and what's to come…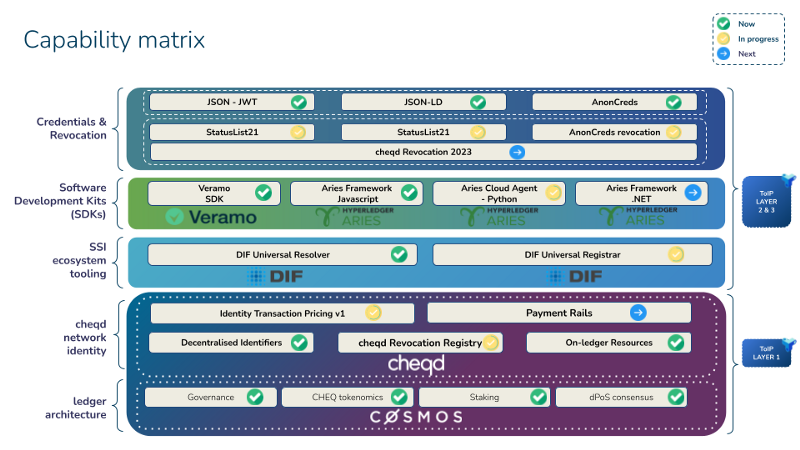 Going beyond the current SSI paradigm
With all the above in place, we now match many of the leading networks in the space, and go well beyond.
Not bad going for a company just over a year old — check out the image below as an example of how cheqd now stacks up against Hyperledger Indy:

cheqd vs Indy comparison — October 2022
To learn more about cheqd pricing and features comparison to Indy based networks, please email: [email protected].
Breaking this down into a quick summary, we can safely say that:
Performance: We are much faster and more scalable for production environments, boasting a far greater transaction per second speed and number of transactions per block.
Decentralisation: Owing to the number of nodes which can run on cheqd there is far greater decentralisation. This means that the network is more resilient to attack or malicious actors.
Incentives: We include rewards for maintaining and using the network functionality using our native token: CHEQ. This is even prior to our payment rails being enabled.
Extensibility: We have improved on the way Indy handles DIDs, keeping directly in line with DID Core. This enables cheqd to support the full remit of DID Core, since it does not need to convert anything like a 'nym' into a DIDDoc. It works using DIDs from the start.
Innovation: We include far more flexible on-ledger resources, which we've built to be directly retrievable using standardised DID URLs. This enables a far greater range of resources to be anchored and easily referenced on cheqd
Interoperability: We support a greater range of Verifiable Credentials and SDKs (JSON based JWT, AnonCreds and soon JSON-LD). Indy is closely tied to Hyperledger Aries libraries and struggles to work with other libraries owing to its specific transaction types.
From today, this means our existing partners will be able to begin using cheqd to its full potential, with feature parity with other networks and additional benefits.
Here's a quick reminder of who are existing partners are: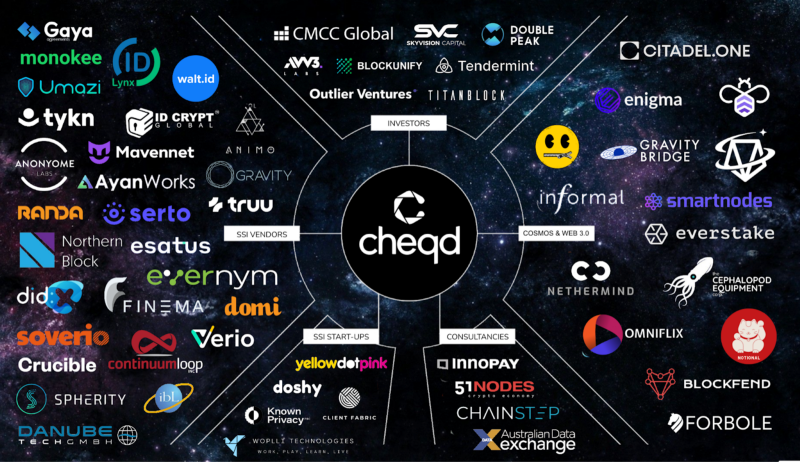 cheqd partners — October 2022
Looking ahead to the future
As a network we have built fast and are now at a poignant moment for ourselves and partners as we witness products start to fully integrate with cheqd. Soon we'll be seeing real applications using cheqd as their underlying network. Our demo with Animo shows a first in SSI with AnonCreds being issued on a non-Indy chain (check this out here).
It also means we can now move our attention to our primary objective and what we believe is the missing piece in the widespread adoption of Self Sovereign Identity — a commercial model that works for all parties.
Therefore, over the next 6 months, our roadmap is largely broken down into two streams:
Integrating with SSI networks and onboarding them onto cheqd for existing clients and identity use cases
Completing the research, development and implementation of payment functionality for revocation statuses and eventually for Verifiable Credentials.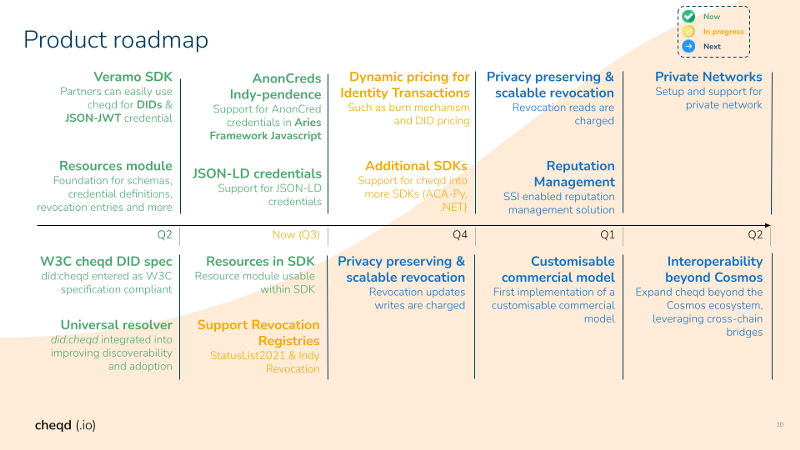 cheqd partners — October 2022
Like always, we'd love to hear your thoughts on our writing and how resources on-ledger could improve your product offering. Feel free to contact the product team directly — [email protected], or alternatively start a thread in either our Slack channel or Discord.