After a pretty busy eight months culminating in a launch, we've finally had the chance to catch our breath and think, both about the rapid progress we've made but also about next year and the future!
This year has been spectacular, to put it mildly. Within eight months we:
formed the company.
renamed to cheqd — still so in love with the name.
secured $3.3m in funding from Evernym, Tendermint Ventures, Outlier Ventures, and more, putting the company valuation at ~$42.6m.
expanded the team from two to thirteen.
built an incredible community of over 13 thousand members, including developers and node operators.
established over 32 partnerships, including 22 with the leading SSI vendors, with more to come soon, and built and launched a fully functional mainnet with W3C compliant DID spec.
most recently, are now supported on both Gate.io and Osmosis. Also, on Osmosis, there is a cheqd:Osmo liquidity pool with both cheqd and Osmo rewards.
And finally, have published a frankly incredible amount of content!
I can only think of a few other projects that have been executed at this pace, which makes me incredibly proud of the team we have assembled at cheqd. I feel extremely lucky to be working with so many individuals who are at the absolute top of their game.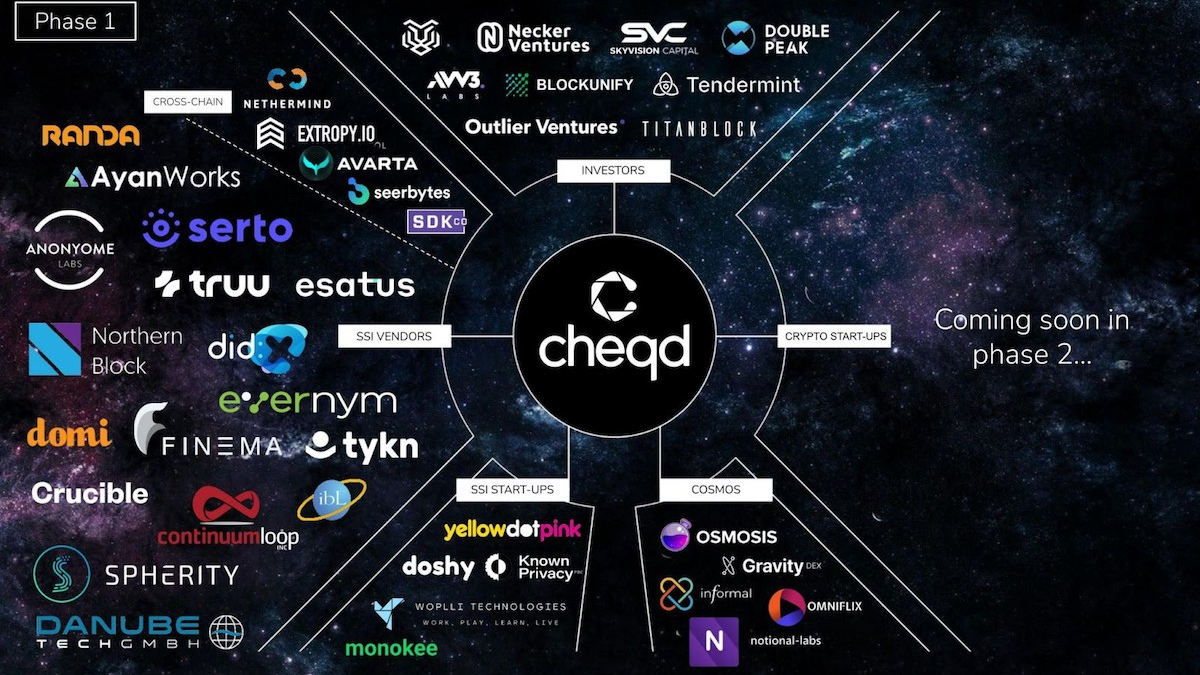 Enough about us for now. It's also worth covering the latest moves in the SSI and digital identity space, which show how big 2022 will become. In the past couple of months:
All of these point to the next wave of adoption for SSI, and we feel we're perfectly timed to accelerate this with the payment rails we' are building!
Looking at the recent news, we believe 2022 will be the year where SSI begins being adopted globally, and we're determined to make that the case, taking over NFT's hype!
Now that the mainnet is live, our entire focus is on bringing projects onto our networks (main and test) whilst expanding the number of partners we work with across the enterprise and Web 3.0 by:
Building out the identity functionality to the latest standards as they emerge so we will always be at the forefront.
Building out payment functionality so the network effects of SSI can be turbocharged by revenue generation and cost-saving.
Establishing partnerships with Web3.0 projects to create new utilities, including:
KYCd but anonymous liquidity pools or collateralised loans
P2P transfers with trust, i.e. no more test transfers
Proper NFT provenance and ownership
Decentralised reputation systems for identity proofing, i.e. legitimate influencer or exchange representative vs a scammer
Progressing our burgeoning partnerships across custodians, exchanges and compliance providers to present an end-to-end solution for enterprises where they don't need to worry about crypto.
It's going to be an extremely busy year, but given what we achieved in just eight months, imagine what we could do in 12!
Best wishes for the holidays, and see you in the new year (although definitely sooner on Telegram and Twitter)!
Fraser & the cheqd family
P.S. We're also on LinkedIn, and YouTube, make sure to cheq in!